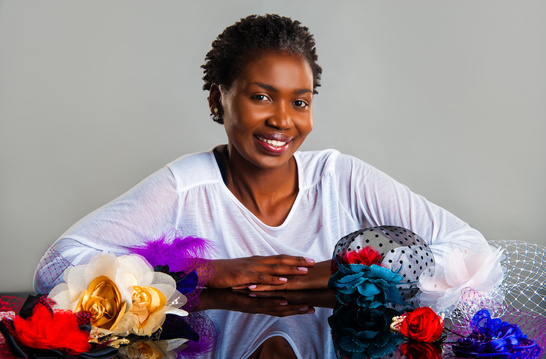 It all started at my brother's wedding…

"Can I try it on? It's the exact colour as my other dress! I can really see myself in something like this, a bit smaller perhaps, and with a white feather on it!" Her mind was racing, designing her own accessories, with a clear picture as to how she'd look. That's to say, amazing!

Do you ever do that?!

Contact
Tel: +44 121 684 0633

Moblie: +44 7565 312 327
Email: matilda@kokoberi.com
---
Soon, all her friends were joining in too! Fascinators, headpieces, hair clips and bands with matching necklaces and earrings, all their ideas came flooding out. I called my sisters over, maids of honour, to pass round the matching designs I'd made for them.

At a wedding, a fascinator is perfect. You've spent a small fortune at the hairdressers. The last thing you want to do is hide your locks under a wide-brimmed hat. But without anything to adorn your crowning glory, you'd feel almost naked. Fascinators are like putting flowers in your hair, you know, like you used to do when you were a little girl.
---
This is how kokoberi came into being: bespoke headpieces for all occasions, because you shouldn't have to wait for your best friend to get married before you can add a splash of colour to your hair.
And bespoke means you say exactly what you'd like. We'll design it together. Every petal of every flower will be precisely hand-crafted to absolute perfection using a dazzling array of materials and embellishments, from sinamay and organza, to satin and silk.
---
I learned to sew at an early age. My mom and dad made our school uniforms and Sunday Best back in Kenya, and I loved joining in. I was my own little fashion designer without even knowing. On leaving school, I studied Interior Design, and then went on to study Integrated Design at university in Cologne, Germany. I now live in England with my husband.
---
So if you've got the seed of an idea for something you'd love to own, just get in touch, and let's start talking.

Yours, Matilda.